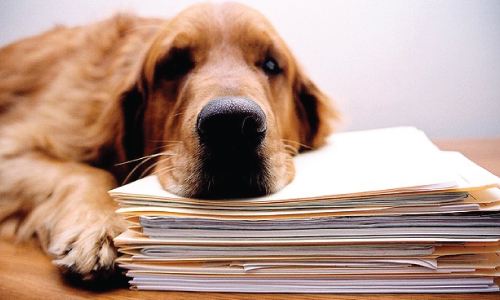 It's really (finally) happening!
For those of you who have been in the office in the last 6 months, you may have already been subjected to the trials and tribulations of our on-going march towards being a paperless practice. For that, we salute you. Thank you all, for your extraordinary patience while we convert from utilizing those giant, paper-packed medical charts to the computer based files. "I am really going to miss searching for those misplaced, over-stuffed, 15 pound charts", said NO ONE, EVER.
Over our six month journey to be good Earthlings, we've set up Medical Exams, Pet Report Cards, Dental Charts and 'Petly' Prescription Requests (just to name a few) in our Cornerstone Program. However, we still have a few more processes to work out before our proposed "Kick-the-Charts-to-the-Curb" launch date of January 1st 2016. Even then, we know there will still be a de-bugging period before we can become the seamless medical note taking, well-oiled data entering machine, that we aspire to be.
In advance, we would like to thank you again for your patience while we continue to streamline the process. In the end we will be better able to serve you with easily accessible medical records (through Petly for our clients and via computer files for us), clearly written Dr's notes (yay! no more Doctor's handwriting!), online RX requests via Petly and so much more.
Until January 1st, we will continue to obtain paper cuts (the big ones that can only be inflicted by those super thick manila charts, that hurt REALLY bad, especially when you get alcohol in them), to have over flowing charts explode on us, and generally continue to curse their existence. After that, we will only have to worry about the computers going down…..
Wait…WAIT…. WHAT?!