Meet Our Veterinarians and Staff
OUR DOCTORS
Craig B. Hempel, DVM
Owner and CEO of Mountainview
Dr. Hempel, a native Californian who was born and raised in San Diego, graduated from SDSU with a BS in Zoology. He then graduated with honors, as a Doctor of Veterinary Medicine, from the University of Tennessee at Knoxville. Since that time, Dr. Hempel has been practicing medicine in Lake Elsinore for over 29 years. In 1988, he became a 50% owner of Mountainview Small Animal Hospital with Dr. Thomas Jessup, and in 2012 he became the sole owner of the practice. Early in his career, Dr. Hempel found he had a natural aptitude for surgery and as a result of his interest and skill in this area, he is our primary surgeon. Additionally, his advanced training and interest in ultrasound technology allow for a broader range of diagnostic medicine, which he enjoys.
Dr. Hempel's wife Monica is an elementary school teacher, and together they have two grown children, Jenna and Christopher, and one wonderful little granddaughter, Tessa; not to mention a handful of rescued dogs running around his house. When he finds free time, Dr. Hempel enjoys deep-sea fishing, distance running, tennis, camping, auto mechanics and working on home-improvement or other "fix it" projects.
Chante D. Tran, DVM, CVA
Associate Veterinarian, Certified Veterinary Acupuncturist
Meet Dr Chante Tran!
Dr. Tran always wanted to be a veterinarian—her mom can recall a very young Chante announcing that she wanted to be a vet and take care of animals; and Dr Tran worked very hard to achieve that goal. From rescuing animals as a young girl to earning her degree and working as a veterinarian, Dr. Tran is so thankful she was able to achieve her dream of being able to help our clients and take care of their fur babies. Dr. Tran's warm, empathetic demeanor make her a wonderful addition to the Mountainview team and rest assured she will take the very best care of your furry friends.
The desire to care-give runs in Dr. Tran's family--her husband and best friend Huy is a Registered Nurse in Riverside, CA. Together they have three beautiful children as well as a houseful of pets that includes dogs, cats, turtles, goldfish and a lizard. When she's not spending time with her family or busy taking care of her fur babies (and shelled, fish and lizard skinned babies), she enjoys bike riding, working out at the gym and going to her favorite place: Disneyland.
Dr. Tran received her BA in Biology from Cal State University San Bernardino and later, graduated from St Georges University of Veterinary Medicine in 2011. She gained 5 years' experience working as a DVM at Butchko Veterinary Hospital and Apple Valley Banfield Pet Hospital and we were fortunate enough to have her join our practice in 2016.
Finally, in 2019, after a year-long course and flying back and forth to Florida for hands-on lessons and testing, Dr Tran obtained her CVA by completing both the initial and advanced courses in Veterinary Acupuncture. She is very excited to bring Traditional Chinese Veterinary Medicine into the practice and plans on expanding her expertise in this area by continuing her education in the area of herbal medicine, food therapy and Tui-na in conjunction with Traditional Western Medicine--Dr. Tran feels we can incorporate the best of both worlds and enrich the lives of our patients for many years to come by doing so.
Erin McConnell, DVM
Associate Veterinarian
Meet Dr. Erin!
Dr. Erin McConnell graduated from Humboldt State University in 2015 with a Bachelor of Science in Biochemistry and a minor in Philosophy. In May, 2020 she received her Degree in Veterinary Medicine from Midwestern University in Arizona and while her rotation was originally geared towards the mixed animal track, she found herself gravitating towards the small animal track with an emphasis on Feline Medicine…which brought her to Mountainview in July of 2020.
While it's obvious she has a love for dogs and cats, she also loves some of nature's more interesting creatures, like the Praying Mantis or the Opossum. She volunteered for the CA Dept of Fish and Wildlife where she worked with bats as well as working with Exotic Felines at a Conservation Center in CA.
Her personal interests include riding motorcycles, playing video games, getting tattoos, and playing with hair color and make up. Always very stylish, it's quite fun to see what pretty scarf or cool piece of jewelry she may have on to compliment a new hair color or makeup palette when she arrives to work. We are so happy to have Dr Erin on our team and we are sure our clients are going to appreciate the great care she provides for their pets.
Melanie Mitchell, DVM
Relief Veterinarian
Here is a face some of you already know, and others may occasionally see in the future. Dr Melanie Mitchell (Dr Mel) has been our relief veterinarian too far back to remember; and before that she worked here as a kennel attendant and then as a receptionist while going to college before she went off to UC Davis. We love having Dr Mel here with us and you can be sure your pet will be in good hands when you come in and see Dr Mel.
TECHNICIANS
KARI
HEAD TECHNICIAN (RVT)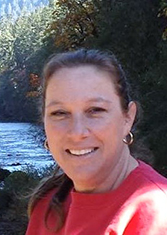 Kari was hired at Mountainview in 1989 as a kennel attendant. Over many years, and under the watchful eye of her mentor, Dr. Hempel, she became an exceptional veterinary technician who sat for and passed her CA State Board Exams in 2009. Kari is the glue that holds our hospital together—she is the go-to person when inventory needs ordering, or if medical equipment needs repair or replacing-she is on it. In her spare time Kari is an extremely competitive and skilled softball player, playing on teams that have made it to the World Series of Softball. She also enjoys camping, fishing and any other outdoorsy activity that where she can spend time with her husband and young son.
KAREN
RVT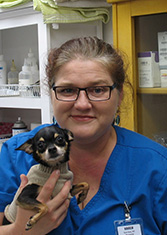 Karen began working in the veterinary field in 1997. She graduated from The Professional Veterinary Assistant School in Garden Grove, then sat for and passed, the California State Board exams in 2005. With 7 years' experience working at a progressive veterinary facility in Orange County, we were excited when the opportunity to add Karen to our team of technicians arose in 2007. Karen is very popular with our clients, probably due to her approachable and caring nature and her desire to go above and beyond in helping when problems arise. In her spare time, Karen enjoys spending time with her son James, and her dog, Lolly.
JENNIFER
VETERINARY TECHNICIAN
Jennifer has been with Mountainview since 2003. After serving four years in the Coast Guard and then working in the veterinary field in Washington, Jennifer moved to CA where we were lucky to have her join our team. She has been a solid technician from the get go and she takes exceptional care of our patients when she is on duty. She is married and has one grown son who followed in mom's footsteps by serving in the military.
VET ASSISTANTS
ELISE
VETERINARY ASSISTANT
Our self proclaimed shop-o-holic, Elise joined us in January 2019. She is currently working hard towards obtaining her RVT designation and we look forward to utilizing those RVT skills when she meets that goal. In the meantime, when she's not hitting the books, Elise enjoys krafting, Dungeons & Dragons, spending time with her fiance and her two big dogs, Kylo and Rey.
RECEPTIONISTS
YADIRA
RECEPTIONIST
Yadira has worked in the veterinary field as both a Receptionist and as a Veterinary Assistant since 2010. Having worked for us temporarily in 2016, she accepted a permanent position with Mountainview at the Reception desk in August 2018. A San Diego native like Dr Hempel, she loves spending time at the beach and enjoys many outdoor activities with her adorable little boy.
AMANDA
RECEPTIONIST
Amanda joined us in June of 2020. Amanda has only worked with us since the COVID Pandemic shut down our lobby, so many of our clients have never had the chance to meet this lovely young lady in person. We are sure, once the world gets back to normal, our clients will enjoy Amanda's charming demeanor and fun personality as much as we do here in the office.
TREVI
RECEPTIONIST
Meet Trevi- Trevi started working at Mountainview in October of 2022 as a receptionist. This ex-Lifeguard/EMT holds a Bachelor's degree in Anthropology and is contemplating entering the Master's program--possibly going into the human medical field. Trevi and her husband enjoy being outdoors; whether they are taking the dogs to the beach or for a long hike in the hills, they always try to find time to be outside where they can appreciate nature.
KENNEL ATTENDANTS
MARIA
Kennel Attendant
Maria (who came on board in 2000) has been taking excellent care of our hospitalized patients and boarders for over 20 years. Only Kari, our head RVT has been with the practice longer.
Even though Maria is a little bitty gal, she is able to handle the most rambunctious of pets with patience and kindness, and (having raised two amazing kids) the "mommy" tone of voice helps too.
Maria is easily one of the best cooks at Mountainview--the staff goes nuts when they know she's making tamales, and don't even get me started on her Posole.....
JASMINE
KENNEL ATTENDANT