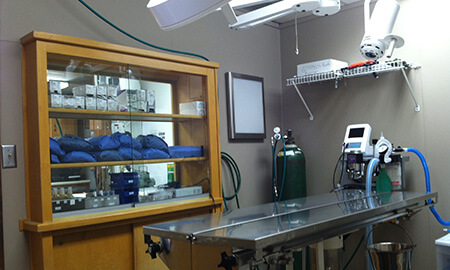 Joint and bone problems can be common issues for some pets, and in some of cases, we opt for orthopedic surgery to correct the problem. Sometimes the problem is easy to detect, such as a broken leg, but other times your pet is just slowing down and doesn't seem quite "right." Our state-of-the-art facility is equipped with the latest in diagnostic tools to allow us to quickly and accurately diagnose your pet's orthopedic concerns.
Common orthopedic procedures include:
Dislocations
Fracture repair
Hip dysplasia/FHO (femoral head ostectomy)
Knee surgery/patellar luxation
Anterior cruciate ligament repair
Amputation
As a fully equipped, full-service hospital, Mountainview Small Animal Hospital is capable of handling most of your pet's orthopedic surgical needs. Dr. Hempel is our primary, and very well-regarded, surgeon.
Prior to surgery, we run diagnostic blood and lab work to ensure your pet has no underlying issues that haven't been detected yet. If complications are discovered, we address those and reschedule the surgery once we are confident your pet is able to tolerate the anesthesia and surgical procedure.
Before surgery, we administer pain medication, which allows your pet to remain calm and comfortable during the pre-op procedures. To better ensure your pet's pain management is completely controlled, we use a multimodal anesthetic protocol with great success.
Throughout the surgery, a veterinary technician is assigned to observe your pet's vital signs, both manually and with advanced computer monitoring. If there is any change during surgery, the veterinarian is immediately notified and the problem is addressed and corrected. Once your pet has recovered and is released to go home, we will give you detailed post-surgical care instructions and will schedule follow-up appointments as needed.
If you suspect your pet may have an orthopedic-related problem, we encourage you to contact us immediately at (951) 674-1475.