From Diagnosis to Meds: We Can Take Care of Your Pet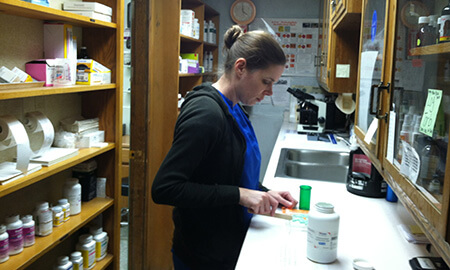 Having convenient and immediate access to the many preventive and therapeutic medicines at our hospital ensures your pet can start his or her recommended medications right away. The benefits of this are immeasurable, as treating disease can be a race against the clock, but with our in-house pharmacy we can always be just a step ahead. The convenience of seeing your pet's doctor and being able to pick up your pet's prescription medication in a single visit saves you time and money.
If you need to refill medication, please try to give us 24 hours prior notice in order for us to have it authorized by the veterinarian, filled, and ready for you to pick up.
If you enjoy using the convenience of an online pharmacy, feel free to check out ours. Our competitively priced medications are guaranteed authentic from the manufacturer, and you can rest assured you are not getting repackaged, expired, or counterfeit merchandise.
Feel free to give us a call at (951) 674-1475 with any questions. Remember, we are passionate about keeping our pet parents informed!