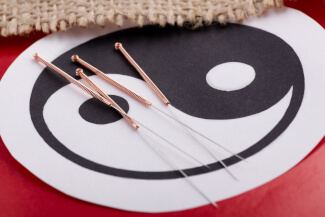 Mountainview Small Animal Hospital is proud to offer Acupuncture Services to our patients! Dr. Tran has completed her courses and is now a Certified Veterinary Acupuncturist, and she is very excited to bring Traditional Chinese Veterinary Medicine to our patients!
Acupuncture in both humans and animals have been practiced for 1000's of years in China, and, although relatively unheard of in the United States until the 1970's, saw a significant jump in popularity in the 1990's and currently over 1 million Americans will receive acupuncture annually.
It is no surprise that clients who are interested in acupuncture for themselves will wonder if acupuncture might be effective for their pet as well.
Initially we will be offering acupuncture alone, but as Dr. Tran continues her studies in this field, we are hoping to incorporate herbal medicine, food therapy and Tui-na (medical manipulation) to work in conjunction with TCVM as well as Western Medicine. Dr. Tran feels we can incorporate the best of both worlds and in doing so, enrich the lives of our patients for many years to come.
Learn more about acupuncture in our blog!