Dental Health Is Vital to Overall Pet Health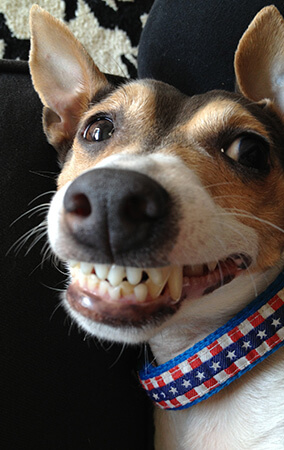 Your pet's bad breath is not something the two of you have to suffer through. Instead, it may be an indication that it's time for a cleaning or your pet may have a dental concern that needs to be addressed.
It's a common misconception that pets' teeth are cleaned well enough by eating dry food or chewing on rawhide. Regular dental exams and periodontal treatments including professional cleanings are essential to your pet's wellness care.
Dental issues are very common with dogs and cats, and they are also largely preventable and treatable. It is worth noting that 80% of dogs and cats 3 years of age and older have dental disease. Many of these issues would have been avoided had proper dental care been followed from day one.
Here's a summary of what we can do to optimize your pet's dental care:
When you bring your pet in for a dental cleaning, we start with a thorough examination.
After the initial exam and blood work, we give your pet anesthesia to keep him or her comfortable during the cleaning and periodontal probe.
We offer full-mouth X-rays as an additional diagnostic tool to identify hidden oral disease.
We accurately chart everything we see during your pet's periodontal therapy.

Tooth chips
Tooth fractures
Pockets under the gum line

We are then able to follow-up on these findings at the next exam to prevent them from becoming major issues in the future. Extra precaution early allows us to ensure your pet's best dental health.
We understand that brushing your pet's teeth can be an intimidating task, so we'll be happy to give you tips while you're in the office. We will also send you home with detailed instructions about caring for your pet's teeth, so you can continue to ensure your pet's good dental health throughout the year. Contact us to schedule your pet's teeth cleaning.