Diagnostics Made Efficient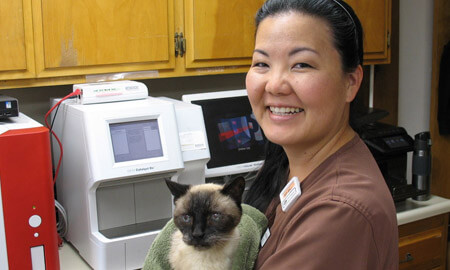 We are proud of our advanced diagnostic equipment as well as our experienced personnel, making Mountainview Small Animal Hospital among the best veterinary hospitals in Lake Elsinore, California.
Laboratory Testing
Preventive medicine, as well as the diagnosis of internal health issues, requires the ability to perform a variety of laboratory tests. Without timely access to precise laboratory test results, it is difficult to make an accurate diagnosis or assessment of your pet's health. That's why Mountainview Small Animal Hospital maintains a complete in-house laboratory in addition to using an outside lab service to provide timely access to tests, such as:
Comprehensive blood panels—A comprehensive blood panel is a test used to evaluate a pet's overall health and to screen for a wide variety of disorders. It includes a complete blood count (CBC), which checks for anemia, infection, and clotting ability; a chemistry profile to determine organ function; and finally, electrolytes.
Cytology—Cytology is the study of the microscopic appearance of cells, especially for the diagnosis of abnormalities and malignancies.
Fungal cultures—A fungal culture is a type of procedure that is used to determine if fungi are present in an area of the body. Fungi are microorganisms that thrive in moist, dark places such as ear canals or folds in the skin. Some fungi are not harmful, while other types can cause infections.
Urinalysis—Urinalysis can reveal diseases that have gone unnoticed because they do not produce striking signs or symptoms. Examples include diabetes mellitus, various forms of inflammation, and chronic urinary tract infections.
Fecal tests—A fecal flotation test is a laboratory test to find organisms (parasites) in the stool (feces) that can cause gastrointestinal symptoms and disease. This important test is recommended at least annually on all pets, as some parasites in a pet's stool can be passed on to humans.
Heartworm testing—An important part of a complete heartworm prevention program is testing. Testing ensures that your pet is free of adult heartworms, and ready to start or continue on heartworm preventive medication.
Our Diagnostic Goal
We want to give your pet the most accurate diagnosis, that's why we are so proud of our in-house laboratory and diagnostic advancements. When things do go awry in your pet's health, we strive to figure it out—and fast. In certain complex cases, we can send images to a certified specialist in order to gain highly reliable second opinions.
For concerns, questions, or to schedule an appointment, please contact us at (951) 674-1475.