Meet Our Veterinarians and Staff
OUR DOCTORS
Craig B. Hempel, DVM
Owner and CEO of Mountainview
Dr. Hempel, a native Californian who was born and raised in San Diego, graduated from SDSU with a BS in Zoology. He then graduated with honors, as a Doctor of Veterinary Medicine, from the University of Tennessee at Knoxville. Since that time, Dr. Hempel has been practicing medicine in Lake Elsinore for over 29 years. In 1988, he became a 50% owner of Mountainview Small Animal Hospital with Dr. Thomas Jessup, and in 2012 he became the sole owner of the practice. Early in his career, Dr. Hempel found he had a natural aptitude for surgery and as a result of his interest and skill in this area, he is our primary surgeon. Additionally, his advanced training and interest in ultrasound technology allow for a broader range of diagnostic medicine, which he enjoys.
Dr. Hempel's wife Monica is a local Kindergarten teacher, and together they have two grown children, Jenna and Christopher, and one wonderful little granddaughter, Tessa; not to mention the five rescued, stray cats and one dog. When he finds free time, Dr. Hempel enjoys deep-sea fishing, distance running, tennis, camping, auto mechanics and working on home-improvement or other "fix it" projects.
Chante D. Tran, DVM
Associate Veterinarian
We are so pleased to introduce Dr Chante Tran!
Dr Tran always wanted to be a veterinarian—her mom can recall a very young Chante announcing that she wanted to be a vet and take care of animals; and Dr Tran worked very hard to achieve that goal.
After getting her BA in Biology from Cal State University San Bernardino, she worked as a veterinary technician for Dr Butchko's office in Riverside, CA. Once being accepted into vet school, and after much hard work, she graduated from St Georges University of Veterinary Medicine in 2011. She gained 5 years' experience working as a DVM at Dr Butchko's office and later at the Apple Valley Banfield Pet Hospital where the long commute took its toll on her and, fortunately for Mountainview, she began looking for a practice closer to home.
From rescuing animals as a young girl to earning her degree and working as a veterinarian, Dr Tran is so thankful she was able to achieve her dream of being able to help our clients and take care of their fur babies. Dr Tran's warm, empathetic demeanor coupled with her strong interest in Cardiology and Internal Medicine make her a wonderful addition to the Mountainview team and rest assured she will take the very best care of our patients as if they were her own.
The desire to care-give runs in Dr Tran's family--her husband and best friend Huy is a Registered Nurse in Riverside, CA. Together they have two beautiful little girls Aaliyah and Amerie as well as a houseful of pets that include 4 dogs, a cat, turtles, goldfish and a lizard. When she's not spending time with her family or busy taking care of her fur babies (and shelled, fish and lizard skinned babies), she enjoys bike riding, going to the gym, and of course (she has two little girls)--going to Disneyland.
Melanie Mitchell, DVM
Relief Veterinarian
Here is a face some of you already know, and others may occasionally see in the future. Dr Melanie Mitchell (Dr Mel) has been our relief veterinarian too far back to remember; and before that she worked here as a kennel attendant and then as a receptionist while going to college before she went off to UC Davis. We love having Dr Mel here with us and you can be sure your pet will be in good hands when you come in and see Dr Mel.
TECHNICIANS (RVT)
KARI
HEAD TECHNICIAN (RVT)
Kari was hired at Mountainview in 1989 as a kennel attendant. Over 25 years, under the watchful eye of her mentor, Dr. Hempel, she became an exceptional veterinary technician who sat for and passed her CA State Board Exams in 2009. Kari is the glue that holds our hospital together—she is the go-to person when inventory needs ordering, or if medical equipment needs repair or replacing-she is on it. In her spare time Kari is an extremely competitive and skilled softball player, playing on teams that have made it to the World Series of Softball. She also enjoys camping, fishing and any other outdoorsy activity that where she can spend time with her husband and young son.
JEAN
RVT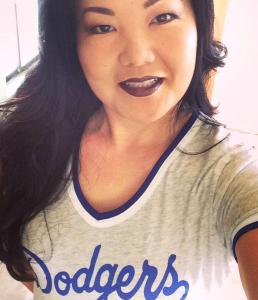 Jean is one of our licensed veterinary technicians (RVT). She was highly recommended by Dr Melanie Mitchell (our relief veterinarian) and we were quick to snatch her up when she became available in 2008. Jean has been in the veterinary field since 1999, so she brought a wealth of knowledge and excellent skills to the table when she came on board with us. The patients are always in very capable hands when they are under Jean's care.
Originally from the L.A. area, Jean, no matter where she moves to, still shows support for her teams: the Lakers, Raiders and of course the Dodgers. She lives with her husband Carl, her dog Boomer and (if you ask Carl) a BUNCH of cats, two of which were bottle fed orphans she raised.
KAREN
RVT
Karen began working in the veterinary field in 1997. She graduated from The Professional Veterinary Assistant School in Garden Grove, then sat for and passed, the California State Board exams in 2005. With 7 years' experience working at a progressive veterinary facility in Orange County, we were excited when the opportunity to add Karen to our team of technicians arose in 2007. Karen is very popular with our clients, probably due to her approachable and caring nature and her desire to go above and beyond in helping when problems arise. In her spare time, Karen enjoys spending time with her son James, and her dog, Moo Cow.
VET ASSISTANTS
JENNIFER
VETERINARY ASSISTANT
ASHLEY
VETERINARY ASSISTANT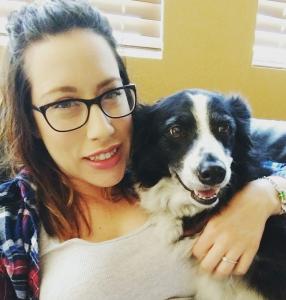 Ashley started in the kennel in 2008, and in 2011 she was promoted to veterinary assistant, where she loves to work with our patients. She has three dogs, Hunny, a Chihuahua who is the ruler of the house, Phoebe, her Golden Retriever and Roxy, a border collie who is a cancer survivor (YAY!!) that still loves to play with her Frisbee.
During her off time, she loves to go shopping and socialize with her co-workers and friends.
RECEPTIONISTS
AYSIA
HEAD RECEPTIONIST / SUPERVISOR
We were lucky to find Aysia and bring her on board in July of 2014. Originally from the New England area, she traveled extensively over the last few years and ultimately gravitated to our area. She had no previous experience in the veterinary field, but learned quickly and proved to be a crucial part of the receptionist team; so much so that she was appointed Head Receptionist in May of 2016 and she now supervises the front desk staff and its day to day activities. Aysia, like many of our staff members, is an outdoorsy type who enjoys camping, hiking and gardening as well as going to concerts. She has quite the menagerie of pets at her home, including 3 dogs, a cat, chickens and a couple of geckos.
If you have a question about your bill, payment issue, or some other front-desk related matter, Aysia is your go-to girl and she is ready to help.
KIMMY
RECEPTIONIST
Kimmy is a receptionist here at Mountainview. Since starting in the veterinary field in 1996, and then joining the Mountainview family in 2001, Kimmy will say there is nowhere else she would rather work. Kimmy can't believe how many years has passed and how many wonderful clients and patients she has met since coming here, she says that it is true—time really does fly when you're having fun. In her off time, Kimmy enjoys deep-sea fishing with her wonderful husband, cooking, and spending time with family and friends. Her home is full with the wonderful chaos brought about by her three dogs: Kuma, the Akita mix; Panzer, the Rotti; and Echo, the Papillion.
Katie
Receptionist / Vet Assistant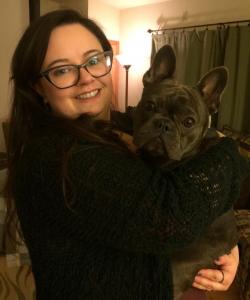 KENNEL ATTENDANTS
NATALIE
Kennel Attendant / Vet Assistant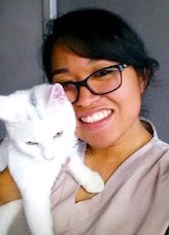 Natalie has been employed as a kennel attendant since May 2014. When the hospital is especially busy, Natalie can be found assisting the Drs in the exam rooms, running labwork or helping the technicians with different procedures in the treatment area. A diligent student, Natalie is working towards her Bachelor's degree in Animal Health Science in order to continue with a career in the veterinary field.
GREETER, CHAIR WARMER, PAPER WEIGHT
Rascal
Mascot, Therapist, Food Critic
Say hello to Rascal! Rascal was born in 2003, and he is living the dream—who wouldn't want 14 women at his beck and call every day? He has the Mountainview Staff trained very well. They provide him with yummy treats, lots of unconditional love, and they don't hold it against him when he "samples" their breakfast or lunches without permission.
He is a great cuddler, and he loves to be held, especially when it's really busy. You can usually find him spread out on the charts at the front desk, so don't forget to say hello when you stop in.