Mountainview Small Animal Hospital Blog
ACUPUNCTURE NOW AVAILABLE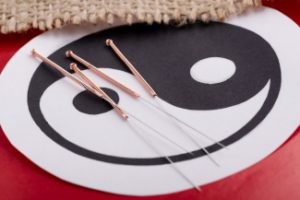 Mountainview Small Animal Hospital is proud to announce that Dr. Tran has finished her year-long course of study and her final exams, and is now certified in Veterinary Acupuncture. She is excited to be able to offer this alternative therapy to her patients in order to help improve their quality of life by combining Traditional Chinese Medicine with our Western Medicine protocols; together, they can be used to treat and/or relieve symptoms from conditions such as arthritis, neurologic disorders, gastrointestinal disorders, paralysis, muscle injuries, and more.
Acupuncture is a very safe, relatively painless procedure where hair-thin needles are placed over different "points" on the body to stimulate the body to heal itself-naturally. Traditional Eastern Medicine describes acupuncture as a method that rebalances the flow of Qi (pronounced "chee"), that travel along the 12 meridians in the body, by inserting small needles into the acupuncture points, it can redirect the flow of energy and restore the body to balanced health.
The Western Medicine rationale is that the body's acupuncture points are located at nerve clusters and blood vessels and by stimulating these areas trigger physiological effects such as increased blood flow, improved immune function, as well as stimulating the release of endorphins (a pain control hormone), serotonin, and small amounts of cortisol (a natural steroid).
Dr. Tran plans on expanding her studies in the field of alternative medicine by continuing her education to include herbal medicine, food therapy and Tui-na (a form of acupressure/massage therapy). Her belief is that we can combine the best of both Eastern and Western medicine to help our patients live long, healthy and happy lives.
If you feel acupuncture might be beneficial for your pet, call our office to learn more, or to schedule a consult with Dr. Tran.
Check out these interesting articles for more information:
DVM360 Article on Acupuncture
National Geographic on Acupuncture
Washington State University on Acupuncture